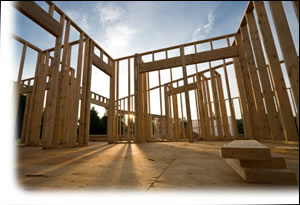 The following types of work shall require permits:
New structures including main buildings, garages, carports, attached porches, sun decks, room additions and extensions or enlargement of existing rooms, accessory buildings, storage buildings, tool sheds, renovations, door and window replacements;

Work which involves the installation, removal or cutting of any structural beam, joists replacement, or bearing support, foundations and footing repair and/or replacement, underpinning or shoring of structure;

Any work that changes the class of construction or occupancy class of the building;

Conversion of basement or other below grade space, attic, storage or other non-habitable space to living quarters (such as bedrooms, kitchens, dining rooms, etc.);

Partitioning of any existing habitable space;

Swimming pools that involve structural work and/or supports and all pools that have a permanently equipped water circulating system;

Fences, canopies, awnings;

Retaining walls over 18" high;

All excavations and all retaining walls over 18" high and earth fill site work creating any permanent change of elevation along property lines require the County Engineering Department's review.

Removal or demolition of any building or structures;


Re-roofing;

Radio, television or other antennas, freestanding attached to and on the roof of a building;

Exterior stairs, steps or ramps;

All signage, except as directed in Section 7-17 of the Chatham County Zoning Ordinance.

Underground or above ground storage tanks;

Parking Lots;

All electrical, plumbing, and mechanical work requires a permit unless waived by the Director of Inspections or designated authority.